The RetinaStation system is a fully-automatic, non-mydriatic 45° retinal imaging device with an eye to the 3 smart features.
For practitioners, the new model is well thought-out in many ways.
They include ease of use, top-quality image capturing, stand-alone design.
The touch panel is large and eye-friendly. Functionality includes single-tap, as on a sensory tablet screen, for complete imaging and other diagnostic functions.
The RetinaStation is equipped with an easily-viewable 10.1" touch panel. A single tap allows you to check each of the eyes, to photograph its fundus and anterior segment, to create auto-montages from wide-angle images and for other functions. The system takes care of all the rest. Pinch to zoom in and out images as you do on tablets.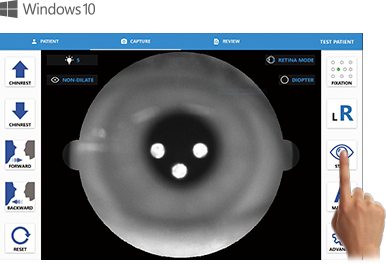 Just one tap for all photographing steps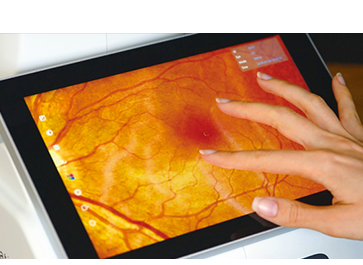 The across-the-retina zone up to the periphery can be reliably rendered by the resolution as high as 12 million pixels.
The RetinaStation with a high resolution of 12 million pixels is easy to use. Reliable rendition is notched up in usual imaging and also in enlargements and photo-montages. Sharp area-to-area images help increase diagnostic accuracy.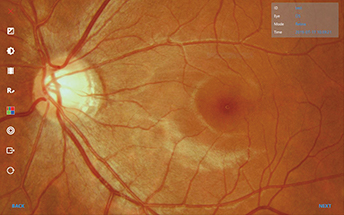 Photo Viewer: Enlarged view of full-auto-captured image